johnjohn75
Awake & Alive...
Gender

Male

| 47
Country

United States
City

Upstate New York
State

New York
Height

5'9"
Last Login Date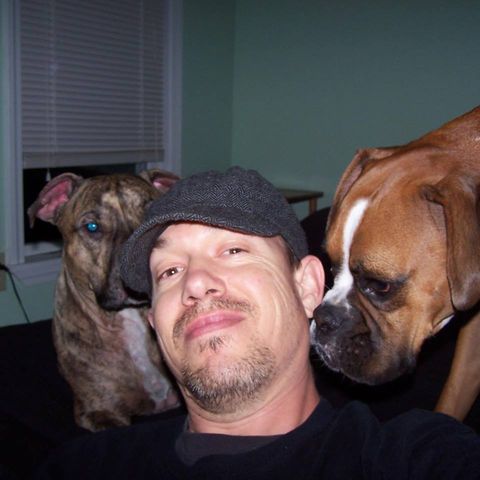 Age

47
Eye Color

Brown
Body Type

Average
Hair Color

Brown
Ethnicity

Other Ethnicity
Denomination

Philippians 2:2 [kjv/a]
Looking For

A Worship Partner
Church Name

I Corinthians 10:32
Church Attendance

No answer
Church Raised In

No answer
Do you drink?

No
Smoker

No
Willing to relocate?

Possibly, who knows
Marital Status

Single
Do you have children?

No
Do you want children?

Does Not Want Children
Education Level

Some College
My Profession

Carpentry
Interests

Tearing Down Babylon, Prove all things; hold fast that which is good (Christ). Abstain from all appearance of evil (the World). I Thessalonians 5:21,22
About Me

I was raised Catholic. Tried sending me to Catholic school but rejected it, I was 5. Took to a Luther school while partaking in Catholicism. Few years later, sent to public schools and said bye to both.

In 2005, confessed my sin to Christ crying my face off asking for forgiveness on a concrete floor. At a Baptist denomination my sister attended. Given a "so called bible" w/ instructions. Read Matthew, Mark, Luke and John, repeat, then finish the new testament. Then, repeat process. Before I knew it, the Spirit provoked me to read Matthew, Mark, Luke and John for a year straight, over and over. Having biblical dreams I couldn't remember. Crazy cool experience tho. Till this day, can't get one person to partake in this unbelievable journey with Christ—so depressing.

2010, on YouTube I met an atheist and attempted to minister the Gospel. He said, why should I trust your denomination when you Christians can't get it together? Being filled with Holy Spirit I couldn't answer his question, righteously. Little did I know his question would change my life...
First Date

01. I reject all bible translations that contradict the King James Version w/ Apocrypha (KJV/a). A work that begun in 1604 and completed in 1611 (7-year project). The first completely English translation of the Holy Scriptures.

02. reject all KJV translations as the persevered "Word of God" if they fail to spell Christ's name with an "I", as in the 1611.

03. reject to all Hebrew and Greek definitions in conjunction to studying and obeying the persevered Word of God.

04. reject all Hebrew names concerning Abba, his Holy Spirit and precious son Iesus.

05. reject all corporate (EIN) fictitious church entities with or without 501c3 tax exemption. If they have a bank account, I reject them.

06. reject all church denominations including the non-denomination. Abba is not the God of confusion Leviathan is.

07. reject all church denominational titles, names, labels, etc.

08. reject all doctrine claiming seniority over the four-books of the gospel of Christ (Matthew, Mark, Luke and Iohn) for salvation. Iesus saith, I am the Way, the Trueth, and the Life: no man commeth vnto the Father but by mee.

He that beleeueth on him (Iesus), is not condemned: but hee that beleeueth not, is condemned already, Iohn three

kingjamesbibleonline.org/1611_Matthew-Chapter-1/
kingjamesbibleonline.org/1611_Mark-Chapter-1/
kingjamesbibleonline.org/1611_Luke-Chapter-1/
kingjamesbibleonline.org/1611_John-Chapter-1/

09. reject Abba's only name is Jehovah.

10. reject Abba came from another planet.

11. reject Abba was once an ordinary human (flesh & bones) and progressed to his Godly hood.

12. reject calling Abba a female, or it.

13. reject Christ and the Archangel Michael created the heavens and earth, and not Abba alone.

14. reject Abba doesn't reside in heavenly places on high.

15. reject Abba's married to a goddess wife.

16. reject Satan has power over Abba in any way, shape or form.

17. reject Lucifer and Christ are brothers.

18. reject claims Abba's not Christ in the flesh.

19. reject Abba, Christ and the Holy Spirit are separate entities.

20. reject polytheism doctrine (God in three persons) also knowns as the trinity.

21. reject calling earthly men, Father.

22. reject man can progress to godly hood.

23. reject the "elect" are a nation of peoples (saved or unsaved).

24. reject salvation is only for one nation of peoples.

25. reject predestination doctrine that claims Abba handpicked those to be saved.

26. reject hell is a common grave for man without eternal suffering. Christ talks about a dude in whom wanted one drip of water because he's being tormented (still is), and he couldn't even get that.

27. reject doctrine that say's hell is not a furnace of torment burning forever and ever.

28. reject man can follow the Law without offending it.

29. reject man has general salvation to immortal life.

30. reject all non-repentance doctrine.

31. reject repenting is self-righteous and a work.

32. reject the sinner's prayer is salvation conformation over someone actually following the gospel obeying Christ.

33. reject salvation comes from good works (Iesus Christ did the good work and Abba raised him up).

34. reject there's three categories of heaven, and placement is by one's good works.

35. reject man can read a prayer and my sins are now forgiven.

36. reject man can pardon my sins on their behalf.

37. reject effeminate and women preaching.

38. reject the heliocentric doctrine.

39. reject bodies of water (lakes, oceans, seas, rivers, creeks, etc.) are cursed and must be avoided.

40. reject the garden of Eden is located in Missouri.

41. reject all doctrine that proclaims Adam and Eve where not the first humans created by Abba within this matrix.

42. reject the claim a human soul is not everlasting once created.

43. reject Adam's transgression was a noble act.

44. reject Abba had sexual intercourse with Mary to impregnate her with Christ.

45. I reject doctrine that claims Christ did not come from a virgin birth.

46. reject claims that Christ was not physically resurrected.

47. reject prophecy dates claiming the return of Christ.

48. reject man can receive the Mark of the Beast and still be heaven bound like John MacArthur said. Planting a seed for someone to use when he's dead and gone? "Look, MacArthur was well liked and a trusted teacher. Look at his fruit! So, you can believe he knows what he's talking about. Just take the Mark my friend and you'll be okay on judgement day". A lie from hell that will send you to hell. And I haven't heard this man repent from of this deadly teaching.

49. reject the claim the second coming of Christ will be invisible.

50. reject angels restored the gospel and minster on earth.

51. reject the light pigmented long-haired Jesus image.

52. reject bronze pigmented nations only come from Ham's bloodline.

53. reject light pigmented nations only come from Esau's bloodline.

54. reject Sunday worship over the blessed Sabbath.

55. reject 10% tithing practices.

56. reject law of blessings (attraction)—give more, get more back doctrine. Name it and claim it.

57. reject grape juice filled plastic shot glass and saltine cracker events calling it the Lords Supper (or, communion).

58. reject baby baptism.

59. reject water baptism in the name of the Father, Son and Holy Spirit.

60. reject governmental marriage practices/partnerships (a three-party marriage contract/license between man, woman & State).

61. reject adulterous, polygamist, incest, under age and same chromosome wedding ceremonies.

62. reject it's okay to end human life through warfare, capital punishment and self-defense (hell is hell no matter how a soul gets there).

63. reject Abba's fine with genocide of man, woman, child, unborn.

64. reject animals in whom clean the earth, air and sea of bacteria, germs, and virus are good for human consumption.

65. reject doctrine that refuses to take Revelation two-nine and three-nine at value.

66. reject condemnation doctrine for people who wish not to support people who hate Christ Almighty.

67. reject the 1948 declaration of biblical prophecy.

68. reject the pre-trib rapture doctrine.

69. reject the 7-year tribulation over the 42-month great tribulation

70. reject grieving images such as cross, crucifixion, dove, fish, flag, steeple (obelisk), star, candle, candle holder, incense, wizard like apparel, etc.

71. reject idol (man, woman, animal, etc.) and statue worship

72. reject dead saints, Mary and holy angels listen and grant man prayer requests.

73. reject Luciferian celebration: Halloween (aka Harvest Fest), X-mas (Christmas), Easter (Resurrection Sunday), Valentine's day, Mother's day, Father's day, Birthdays, Labor day, Memorial day, Ash Wednesday, St. Patrick's day, Palm Sunday, Good Friday, Independence day, modern-day Thanksgiving, etc.

74. reject the notion Abba made a mistake creating (anyone one of us) in our mother's womb. [Psalm 139:14]

75. reject name changes like swine to pork, devils to demons, dragons to dinosaurs, Iah to Jah, Iesus to Jesus, etc.

"God is a Spirit, and they that worship him, must worship him in spirit, and in trueth. Studie to shewe thy selfe approued vnto God, a workman that needeth not to be ashamed, rightly diuiding the "word" of trueth. For the time wil come when they will not endure sound doctrine, but after their owne lusts shall they heape to themselues teachers, hauing itching eares: And they shall turne away their eares from the trueth, and shall be turned vnto fables. Am I therefore become your enemie, because I tell you the trueth?" [the Word of God]

Dividing the "Word" doesn't mean looking to secondary sources. It means to stay in the persevered "Word of God". And if Holy Spirit gave one insight concerning the broken covenant curse of Deuteronomy twenty-eight. And it's broken conformation in Matthew twenty-seven. They would understand why Abba preserved his "Word" in the English Tongue. It's the most learned tongue in the world for a reason.

God bless...
Account Settings (To message johnjohn75 you must meet the following criteria.)



Any Age.
Send an abuse report regarding johnjohn75's Language, Images or other account details
If you suspect this member is a SCAMMER or is being deceitful PLEASE CLICK HERE and let us know so that we can check them out