Friendz1st
Willing to meet you anywhere - except hell. Just be
Online Today
Gender

Male
Country

United States
City

In Chicago for now - seeing how it goes.
State

Illinois
Height

5'6"
Last Login Date
Age

51
Eye Color

Brown
Body Type

Average
Hair Color

Bald
Ethnicity

Caribbean
Denomination

All-mighty God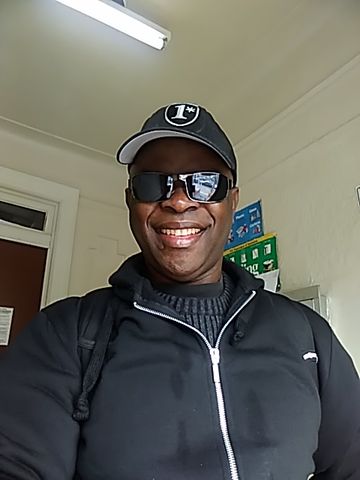 Looking For

A Long Term Relationship
Church Name

All of All-mighty God's people
Church Attendance

No answer
Church Raised In

No answer
Do you drink?

No
Smoker

No
Willing to relocate?

Sure, why not
Marital Status

Single
Do you have children?

Yes
Do you want children?

Undecided/Open
Education Level

4 Yr College Degree
My Profession

self emplyoed
Interests
For now it's connecting with that one potential 'forever' - wherever she might be in this world or held up in heaven somewhere
About Me
My Personal Descriptive Profile?
Sorry, ladies first.

Now as much as I believe that it is left to the King to choose a princess for His son, I think I have an idea of the type of woman to whom I might be able to relate best:

First of all, you know your God and/or endeavor to do so. You are a natural; you are real; you're all woman - and though you may not be perfect you're perfectly acceptable. You're not the most popular of ladies either - as a matter of fact, on the list of popular women you're no where to be found. Your friends are few - maybe one or two; you prefer good company over a crowd; you're not really a social butterfly, showstopper, or crowd pleaser/leader. Instead, you're more reserved. You could even be considered a bit shy and timid - so much so that the thought of being the face of a crowd could cause you to wet your pants.

And though you may not be popular, perfect, a showstopper, and a crowd-pleaser, you are - nevertheless, spiritually conscious, emotionally mature (and stable for the most part :-), and physically, you're well-put and well-held together - you're on point. Also, you are super clean, hygienically conscious, health conscious, and you have a head on your shoulders. You're not conceited at all but comfortable in your skin. It is often said of you that you are too kind - sacrificing your own wishes for that of others at times. You seek peace at any cost. You have a heart for others - able to feel their pain and to rejoice with them. And yes, while you may not be an all-star, rock-star, or super-star, you are indeed a STAR - with your diamond heart and golden personality shining brightly through. You live purposefully and walk gracefully - holding true to the morals and values that make you who you are. Definitely, you're one of a kind!

Now if this fits a description of you, or if it sounds just a little bit like you, please say hello. And if it's not you but maybe someone you know - like a cousin, a niece, an aunt, your daughter, your mama, even your age-defying grandmama (hey, why discriminate) - please spread the love :-)

PART TWO: Aka, Personal Profile

Now if what you've been wishing for is a guy who will keep the Father as the number one priority but make you the central focus of his life - his world; one who will cover you in prayer and fast on your behalf; one who will accept you for who you are - celebrating your strengths and supporting you where you're weak; one who will work tirelessly to put a smile on your face and in maintaining the same; one who will give his all to becoming one with you - like a tightly fitted nut and bolt seized in time - becoming one heart, with one mind, speaking with one voice, inseparable - come hellfire; one who will be your greatest fan, best friend, and most loyal companion; one who will prioritize game nights, movie nights and dinner nights with you - over TV, sports, friends, or other such interests.

By all means, if you think such a guy would be your ideal guy or at least an acceptable compromise, then I might be just the one for you. What are you waiting for? Come on, grab the courage and say hello. And while you're at it, please tell me what stone do you prefer - diamonds, rubies or Sapphires?

Note to reader: "DESCRIPTIVE PERSONAL PROFILE" ENDS HERE!!! What follows is general information. And as the administrator says, it's "(Optional)"!!!! Thank you and may God bless you.
===================================
First Date
FIRST DATE? WHY JUST THE FIRST?

SOME GENERAL VIEWS. EXTRA EXTRA!!!
(Note: Read at your own pleasure. I'm simply expressing myself here. As an "expressionist," I find writing to be a great and pleasurable medium of expression. Actually, it's much like lovemaking - just keep going - no end in sight. Oh yes, and it depends on the "subject matter". Wow, did I really say that?)

Anyway, the fact is, attraction will allow two people to set eyes on each other and may even help BRING those two together - but it will definitely take more to KEEP them together. Relationships are held together by the bond two people have together that is only made possible as a result of their compatibility and hence their 'relatability' (the ability to relate) to each other.

Compatibility and 'relatability' speaks to/of one's personality - not beauty (looks), culture, orientation, social status, or any of those other stuff.

And do I even need to explain personality? I'll just say this: Personality speaks of who the person is or has become - it is what makes the person do what he or she does - behaves how he or she behaves - or relates in the way that he or she relates. And so the body embodies the person while the person produces or expresses the personality - which is the life or nature of the person.

Now, please understand that a person isn't just determined at birth and, therefore, personalities are not only innate. Instead, persons (and hence, personalities) can be formed or taken shape throughout the lifespan of the individual. This is so because persons and, therefore, personalities are formed through various lifeforms (spirits). These lifeforms can be inherited through conception & birth - as indicated earlier, or adopted (voluntarily - by invitation or acceptance, or involuntarily - through force or by way of submission).

For example, if an individual is born with (at birth), invites or is made subjected to (later down in life) the spirit of anger, it should be expected that such an individual will display a rather mean and miserable personality. The opposite is also true in that if one is born with, accepts or is made to submit to the spirit of joy, we should expect the result of a warm and happy personality.

Now note, spirits love two things - company and comfort. We should understand that because, as the host, we love the same. And so when a spirit moves into a territory, it brings with it all of its/his/her friends and relatives - with all of their belongings. So, imagine anger bringing along with it bitterness, unfriendliness, 'meaness' and a host of others (with all their belongings) into an individual. And now imagine you trying to date or be with someone who has all those multitudes of spirits - with all their luggage/baggage. Certainly, if there is no compatibility, the risk for conflict is enormous. Hence the reason for so many divorce.

So, to re-emphasize, I am of the view that the cause(s) for failed relationships or marriages among the redeemed are not socially, economically, or physically based (as society would have us believe) - but instead, they are spiritually and/or emotionally rooted. It all depends, therefore, on how susceptible we are and, therefore, how exposed the relationship is to be influenced by the enemy and his agents. I will even venture further to say that the survival of our marriage is going to depend largely on the level of our SPIRITUAL MATURITY and EMOTIONAL STABILITY - for demons are not phased by how educated we are, how great of a career we have, how fine of a shape our bodies are in - and they are definitely not deterred by how well we are able to quote the apostle Paul or our many other religious accolades. Instead, demons are restricted, in part, by how well you and I know God personally and our ability to personally relate to and be guided by Him. A challenge for them also exist when they know that we can identify and withstand both they and their devices. Therefore, we (as habitats of spirits) must be able to discern them; be willing, ready and strong enough to withstand them; and be ever so vigilant in seeking to protect ourselves, the one whom we love, and the relationship we share together ❤️.

========


FOR NOTIFICATION PURPOSE: I think I should point out that I no longer consider myself as what some would call a "conventional Christian" - being confined to a particular religion/denomination and/or conforming to its norms. In other words, having pledged my allegiance to the Father, my commitment/devotion is to Him and not religion - hence my loyalty is to the One True Church and not to any one specific denomination. I am a member of this One True Church which consists of all those who have responded positively to the call of the Father in surrendering their lives unto Him. Individual membership of such a Church is marked by The Spirit of God within the individual and not necessarily by how he/she has been indoctrinated by religion. Furthermore, I am committed to seeing God's people (The Church) come together - the body of Christ be unified as one. The division the enemy has created and has caused to permeate and perpetuate among God's family (The Church) makes The Father's heart bleed. It restricts the working of God among His people and distorts the true image and representation of Christ on earth. Therefore, with all I know and have been convicted of, It remains my duty and commitment to live accordingly and promote the same.

WARNING:
Any institution or individual using this site or any of it's associated sites for studies or projects, you DO NOT have permission to use any of my profile or pictures in any form or forum both current and future. If you do, it will be considered a violation of my privacy and will be subject to legal ramifications.
Account Settings (To message Friendz1st you must meet the following criteria.)
Any Age.
Must not Smoke.
Send an abuse report regarding Friendz1st's Language, Images or other account details
If you suspect this member is a SCAMMER or is being deceitful PLEASE CLICK HERE and let us know so that we can check them out