Hope & Kyle
Nov 26, 2022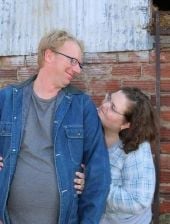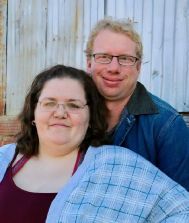 Six years ago, I was single dealing with losing my mom. By Christmas I was able to reconcile the lost I felt and February on a limb I joined CDFF!! After two days and No Success, I went to shut it off!! When ANOTHER ding went off!!

It was a "Hey, How was your day" Some how my heart melted. Some strange man cared how my day went. so I said good and started searching his profile and everything in the middle of my dark apartment. Then I shouted in big letters "I AM NOT MOVING" Little did he know God made me feel intrigued by this man and the most awful picture I fell in love at first sight with a picture and "how was your day" LOL

Little did I know that he fell in love with my picture and my personality!! He responded with "No one is moving, YET" DON'T fall for a sweet southern boy who says YET!! Man, I ended up moving from NJ to AR. After 7.5 months of dating, (if you can call it dating) it was more of the first day we knew each other, we Got Married!! (Mainly because I had no where to stay in AR) LOL And I couldn't live with him.

We had some very rough first years, Mainly setting me up with doctors, having surgeries that were passed due and Kyle watching me almost die twice!!

Kyle and I have a love that is so familiar that it doesn't seem possible that we never knew each other for 30 years. The Agape love has left and we are most like best friend brother and sister and just so familiar we just get it.

I Found my soul mate and I NEVER would have thought it would be online!!! but like I tell ppl now its the new bar scene!! Thank you for being here when I needed to find my husband!! and it felt Hopeless!!

My mother always used to say I was not going to find a man in Blairstown NJ and She was Right!! I took big leaps of Faith and I am Glad I trust and put my faith in Christ Jesus!!

Pictures are from a Blessed Weekend with Kyles family this thanksgiving where we had pictures taken for a Christmas card and for around the house. We didn't get many from our wedding!!