Guilda & Daniel
May 27, 2016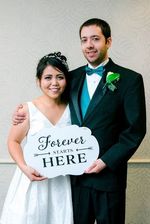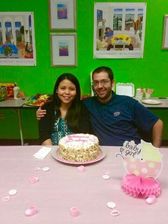 Gia05 - I met Daniel on CDFF in late Dec. of 2014. He was in Texas and I was in DC. I actually joined the CDFF due to my sisters in Christ's encouragement to give online dating a try. I had never been in a relationship and they thought that it was because I didn't pay attention to it even though there were few guys who approached me. Those guys were either unbeliever or not a mature believer. I was firmed to stand upon my conviction that if I were to be in a relationship, Christ should be the center of it. Honestly, in my 28 years of being single there were times that I would wonder how it feels to be in relationship and look up and ask God if he's preparing someone for me. Then I thought that maybe marriage was just not for me. I didn't have much hope if not no hope at all when I first tried CDFF and tried it just for the sake of trying and had brief conversations with no direction with couple of guys.
I had never imagined that online dating will work for me but it did! In late December of 2014, Daniel sent me a message and it was very different from the rest. The approach was very polite and Christ-centered. I was unsure at first and prayed a lot for God's wisdom and discernment. And indeed, God is always true to His promises and reveals His will to those who seek it. The more I talk with Daniel, the more I can see Christ in him. We became officially in a relationship on Feb. 2, 2015. He flew to DC on March 12 and proposed to me on bended knees beside a lake on the 15th of March. And soon enough, we got married on 9th of October 2015. I love being married to my husband and I am grateful to God for blessing me with a Godly, loving, caring, and considerate husband. We are seven months on the way now and are very excited to meet this growing miracle in my womb in person. All glory to God!
I know that this testimonial is long but I am praying and hoping that may this give an encouragement to those who seek to find their future spouse with God-honoring intentions that good things come to those who wait upon the Lord. Thank you CDFF for being God's instrument to bring two souls together. God bless your ministry and all the people behind it!

Daniel12v3 - CDFF is a wonderful Christian ministry worth supporting. Coupled with much prayer, it can be a tool to bring two liked-minded believers in Jesus Christ together for marriage. After looking locally for a few years I decided to give online dating a serious try.
I first contacted Guilda in late December. I've contacted many women on this website. Most did not respond. Those I left alone. I also very much appreciated when a woman told me plainly that she was not interested in me. It helped redirect me. A few responded and few others I carried on conversations with for a while. Yet, none of these were the match God wanted for me. As I continued to use CDFF, I became gradually more specific and sure of who I was looking for. God helped me remain discerning throughout.
I wasn't willing to settle or compromise my beliefs. God blessed me for it by moving Guilda to respond to me favorably. After using only the CDFF messenger for a while we agreed to video chat on Skype a few times a week. We also spent 1-2 hours on the phone talking every weekend. After asking her many open-ended questions about her faith and waiting on the LORD for direction, God began revealing to me that she is the one for me. God eventually gave us the green light to meet in person. During the time between our meeting, proposal, and wedding, He used other Christians in our lives to support us and keep us accountable until marriage. I am so grateful to the LORD God for answering my prayers for a Christian wife. What a wonderful God!